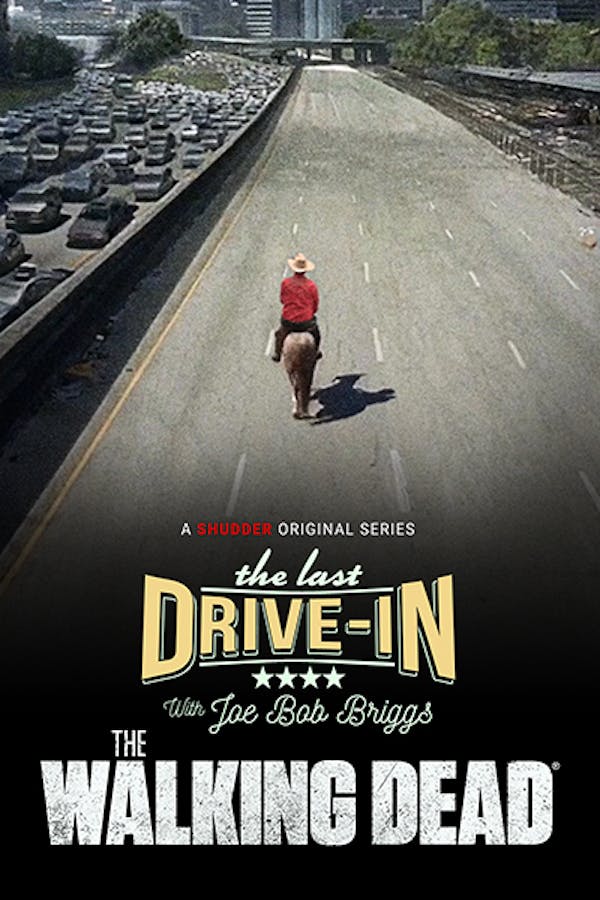 The Last Drive-in: The Walking Dead
Join iconic horror host and foremost drive-in movie critic Joe Bob Briggs and special guest, The Walking Dead Executive Producer and Special Effects Make-up Supervisor/Designer, Greg Nicotero, as they watch the first two episodes of The Walking Dead, Season 1 and talk about the introduction and evolution of walkers, as well as iconic walkers from the series.
Member Reviews
Ummmm…. If marks opinion is so invalid why has the Walking Dead fallen off so dramatically. I really don't want to bring up other stuff here but I was told for 4 years that I must be a threatened conspiracy theorist misogynist cause I said the MCU was done cause they were obviously trying to gender swap everybody out and even women aren't interested in that. Only activists who don't watch movies. 4 years later they admit the M She U is real and it's been a gigantic mistake (of course they don't say the mistake part but look at the numbers. Even their false ones). They have all but destroyed hollywood by by following the same plan that killed dc and marvel. This is not a conspiracy theory. You You are oblivious to what's really going on
TS Spooky dude. You don't know what your talking about. She's playing a part. She has loved Joe Bobb and his rants as long as all of us. He makes fun of himself for his rants. She's playing the part of the disinterested girlfriend that just wants to get on with the movie. It's a role she was given base on the fact she probably loves Joe Bobbs rants more than any of us. And if she disagrees with him I'm sure he's asking her to be sincere about that. But what is she gonna do out talk him? So she rolls her eyes. I think you got a problem with women man
@markp who hurt you? You have a right to your opinion but your opinion doesn't reflect what the majority feel these days. if you feel threatened then thats a problem you need to get checked out.
tspooky you must really hate darcy since you spam every last drive in with the same "review". you must be ignorant because if it wasnt for darcy joe bob (probably) wouldnt have come back. or maybe you just dont like her because she rejected you? 🤔 4 stars joe bob says check it out!!!!
I just love Joe Bob. Darcy brings little to nothing to the show. And what's worse, she often insults Joe Bob about many things - - including his rants. **HEY SHUDDER: JOE BOB'S RANT'S ARE WHY WE TUNE IN!!!! More Joe Bob, less Darcy: much less.