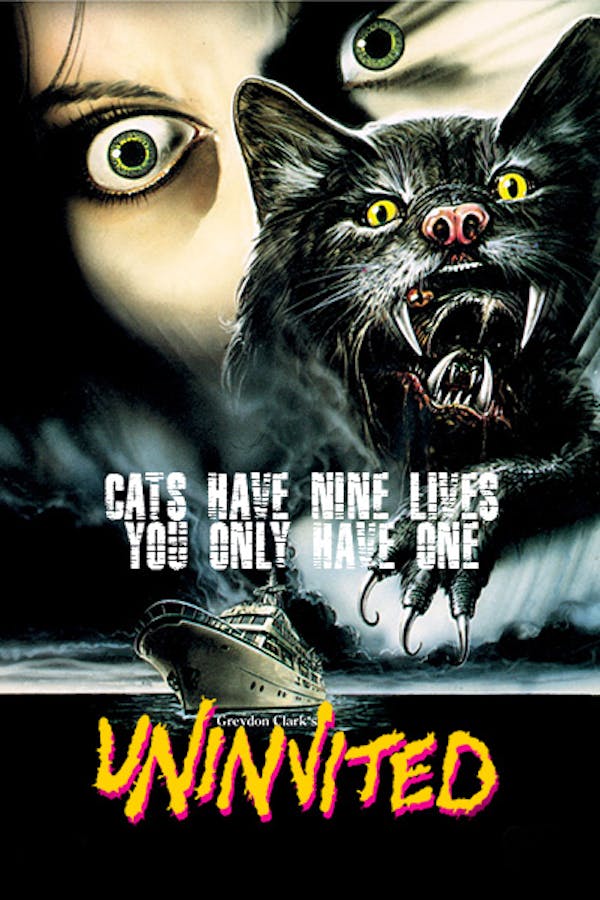 Uninvited
Directed by Greydon Clark
A ferocious mutant cat boards the getaway boat of some white collar criminals after escaping from a research lab. Once the ship has sailed, the clueless crooks think they're in the clear. Little do they know their fluffy feline can grow big and houses an even more monstrous kitty in its mouth! Schlockmeister Greydon Clark (SATAN'S CHEERLEADERS) enlisted b-movie horror favorites including Clu Gulager (RETURN OF THE LIVING DEAD) and George Kennedy (CREEPSHOW 2) to play the human cat food. You won't be picking up strays after taking this deadly journey... Contains strong language.
A ferocious mutant cat boards the getaway boat of some white collar criminals.
Cast: Toni Hudson, Eric Larson, Alex Cord
Member Reviews
So bad, but not the worst I have seen....at one point you can actually see the arm manuevering the mutant cat puppet (mutant cat breaks through pickup bed window)....more cheesy than Cheeto's....just awful but couldn't turn it off....
A bleak and darkly twisted tour de force. It's like Saw 4 and The Human Centipede 3 had a possessed love child. The most unspeakably unsettling slow burn dark crawl black velvet fog cinematic experience of your entire life. I may never sleep again.
Hilarious and cheesy, but in a great 80's way. I had never seen it before and decided to watch it and it was awesome. Check it out and see what you think. On to the next.
I own this one... it's still hilarious cheesy fun after all these years! The killer cat scenes with the mutant cat coming out of its mouth are priceless! Mix that with a few well known actors and you've got yourself a hell of a fun 80s flick! It's also unique. There's really nothing out there quite like this one!