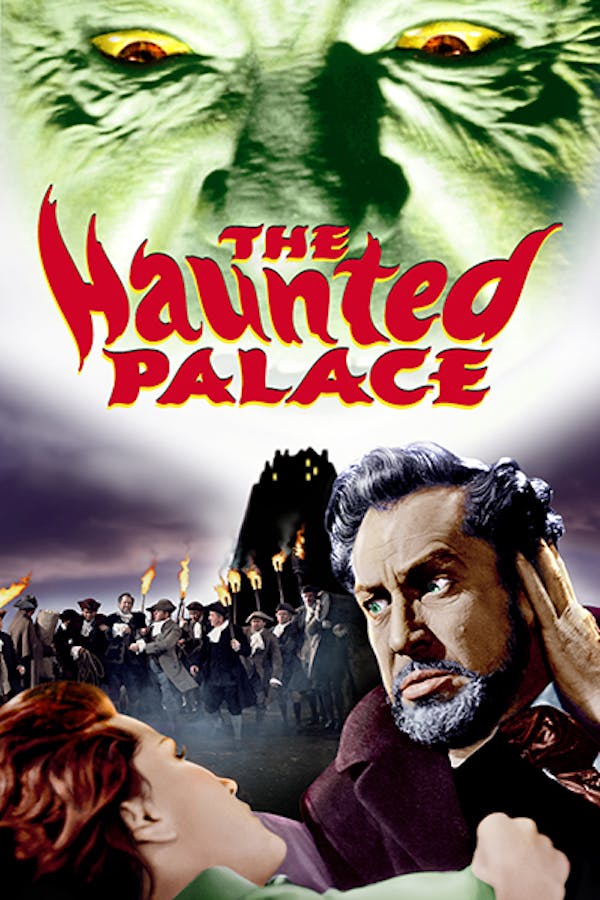 The Haunted Palace
Directed by Roger Corman
In 1765, a young village girl is seen wandering off toward the shadowy mansion of Joseph Curwen (Vincent Price) and is later found in a strange trance. The angry villagers storm the estate and they burn Curwen alive as he curses them and their descendants. Now, a century later, his great-great-grandson, Charles Dexter Ward (Vincent Price in a dual role), inherits the mansion and strange things begin to happen. Could it be Curwen's evil spirit that lives within the walls of 'The Haunted Palace?'
In 1765, a young village girl is seen wandering off toward the shadowy mansion of Joseph Curwen and is later found in a strange trance.
Cast: Vincent Price, Debra Paget, Lon Chaney, Frank Maxwell, Leo Gordon, Elisha Cook, John Dierkes, Milton Parsons, Cathie Merchant, Guy Wilkerson, Stanford Jolley, Harry Ellerbe, Barboura Morris, Darlene Lucht, Bruno VeSota
Member Reviews
Classic Corman/ Price pairing. Another AIP Poe film, it's a good story with great acting. The supporting cast is a definite strength.
i am a fan of horror from this era and would love to see more!
I'm trying to watch more horror classics from this period, and this has been my favorite so far. Vincent Price is excellent.
A wonderful classic ! I would like to see more of them. I wish today's movies were made like this. They are not, the grander is missing.
About a decade ago I watched this on Halloween day. There's something uncanny about its Halloween appeal. Since then it has been my favorite movie to watch on Halloween. It helps that it's a Price vehicle as Vincent Price is my favorite Halloween actor. But the whole ambiance of the gothic castle, the family curse, and Lovecraft lore has made this a sentimental seasonal favorite over the years. Even though it's been streaming regularly, I bought the oop double feature dvd on eBay and am very happy to see it here on Shudder.