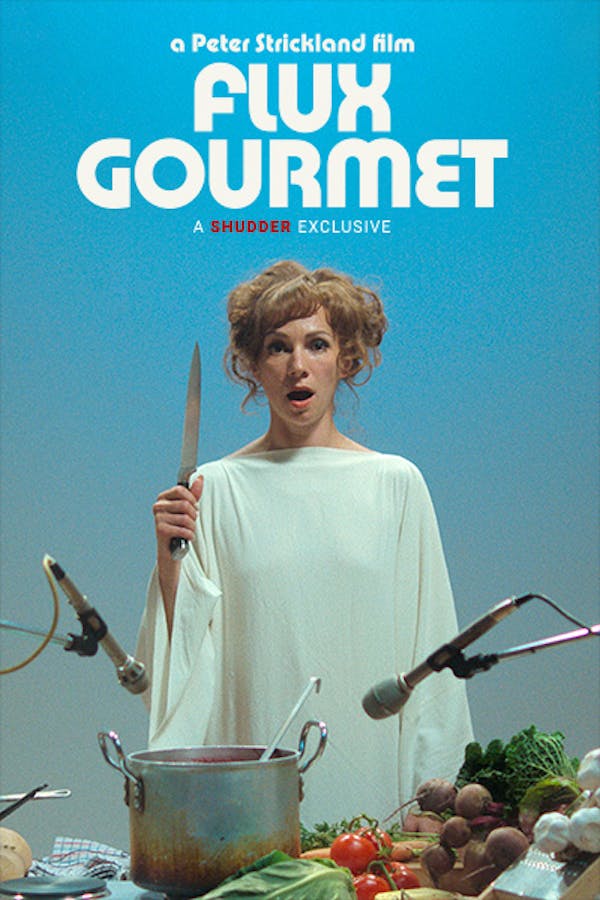 Flux Gourmet
Directed by Peter Strickland
A dysfunctional sonic collective – a band devoted to the sounds of the culinary arts – navigates rivalries internal and external in this absurdly original feast for the senses. A SHUDDER EXCLUSIVE
A dysfunctional sonic collective – a band devoted to the sounds of the culinary arts – navigates rivalries internal and external in this absurdly original feast for the senses.
Cast: Asa Butterfield, Gwendoline Christie, Ariane Labed, Fatma Mohamed, Makis Papadimitrou
Member Reviews
A pretty great concept, while not a horror movie per se. Asa Butterfield's performance is really engaging. I loved the scenes with traditional musique concrete/sound collage setups for their perfprmances.
I wanted to like this film based on the concept, but moments in I knew I'd picked the wrong picture entirely. The primary horror of this movie is the fact that it spends so much effort on trying to create a disturbing atmosphere by disrespecting the viewer's time with dislikable personalities and the detailing of the gas problems of a farty journalist. It tries to be an art piece by approaching horror from a different angle, but it's thin broth in that regard. They say disgust and horror run along the same routes in the brain, but those wires have never crossed for me personally. Unless you actually enjoy the mere feeling of pointlessly being mildly offput, having to tolerate audio that the movie tries to suggest is unnerving, and pretentious overblown hot air dialogue from purely grating characters, it's not really worth your time.
Amazing tense anxious surreal great characters freaky believable decadent beautiful perfect acting omg omg shocking