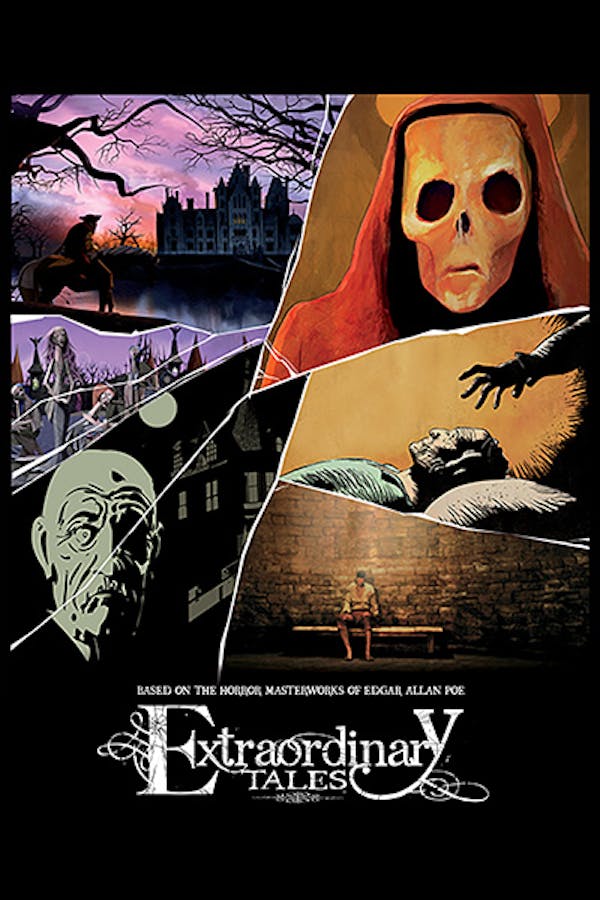 Extraordinary Tales
Directed by Raúl García
Five of Edgar Allan Poe's best-known stories are brought to vivid life in this visually stunning, heart-pounding animated anthology featuring Sir Christopher Lee, Bela Lugosi, Julian Sands, Roger Corman and Guillermo del Toro. Murderous madmen, sinister villains and cloaked ghouls stalk the darkened corridors of Poe's imagination, as his haunting tales are given a terrifying new twist by some of the most beloved figures in horror film history.
Five of Edgar Allan Poe's most famous tales are adapted into an animated anthology featuring a variety of horror icons.
Cast: Christopher Lee, Bela Lugosi, Julian Sands, Guillermo del Toro
Member Reviews
Amazing Anthology movie. A good way to introduce Poe. i love the different art and animation styles, the narration is top notch, even by the late legends of Christopher Lee and Bela Lugosi. This is a movie for Macabre fans and animation enthusiasts, and those just looking for a fun way to kick off October!
This was awesome. Beautiful animation and narration. One of the best things I've watched on here.
animation was well done, whether the style is to one's taste or not. good selection of stories, probably could have done without the whole raven talking to the statues thing going on in the background.
Beautiful. The narrative frame fits perfectly with the texts and what about the visual. I loved it!