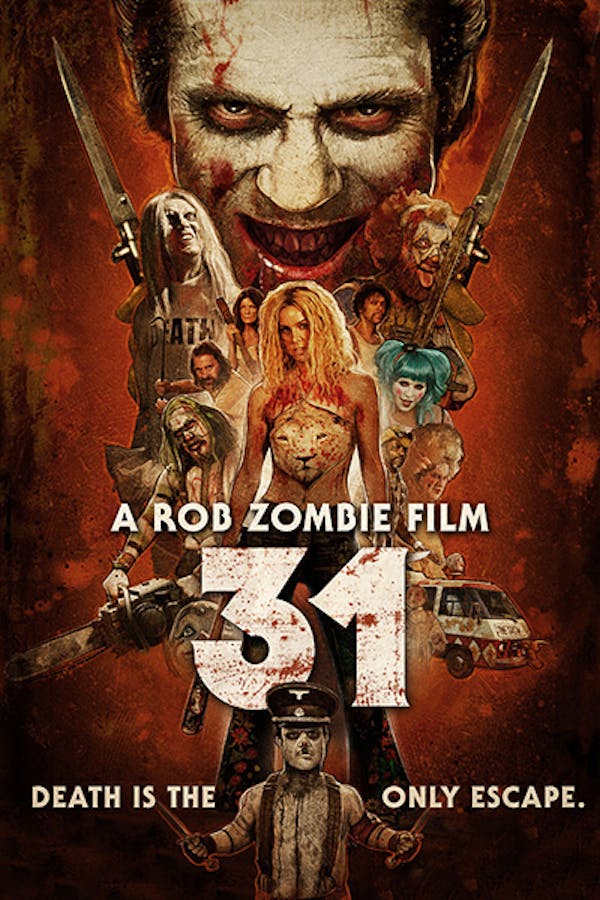 31
Directed by Rob Zombie
Driving through the Southwest on Halloween night, Charly (Sheri Moon Zombie) and her carny crew are attacked and brought to a factory where evil aristocrat Malcolm McDowell announces they'll be hunted by a series of killer clowns, including the unstoppable Doom-Head (brilliant bad guy Richard Brake, aka the Night King on "Game of Thrones"). The deathmatch set-up has been a horror-fantasy staple from 1932's THE MOST DANGEROUS GAME to THE HUNGER GAMES, but in Rob Zombie's blood-soaked hands, the subgenre naturally receives its most unrelentingly gruesome interpretation. Contains strong language, sexual scenes, violence and gore.
A tough band of carnies are forced to play a gruesome game of kill-or-be-killed on Halloween night.
Cast: Sheri Moon Zombie, Meg Foster, Richard Brake, Lew Temple, Malcolm McDowell
Member Reviews
Another one of a kind Rob Zombie masterpiece. Sheri Moon Zombie, Malcolm McDowell, midget hitlers, killer clowns, sex and death and so much more. Who could ask for more?
This is pretty bad even for Rob Zombie